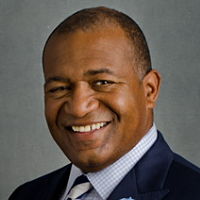 Dr. Bernard "Bernie" Banks has held leadership positions in the U.S. Army and higher education, making him the perfect choice discuss the importance of effective leadership.
Dr. Bernard "Bernie" Banks retired from the U.S. Army as a Brigadier General in August 2016, but his leadership roles didn't end there.
He's the associate dean for leadership development and a clinical professor of management at Northwestern University's Kellogg School of Management.
As such, he's uniquely qualified to discuss what it takes to be an effective leader, which is exactly what Banks will be discussing at the Midsize Enterprise Summit Fall 2017 conference, which takes place in San Antonio from September 17-19.
"When you talk about the importance of exercising leadership and growing effective leaders, that is not confined to a certain industry or a certain strata of people in our industry."
Banks knows of which he speaks.
An uphill and upward climb
"My career has spanned two industries primarily, but a multitude of functions within those industries," Banks said.
In the U.S. Army, he worked in operations-related roles first in field artillery, particularly the deployment of cannons, and then moved to the aviation field where he worked as a pilot before moving up the ladder to the executive ranks. He served as general manager in South Korea for one of the Army's 14 business units around the world that deploys the Apache helicopter.
He held that role for two years. "It was wonderful. Coming out of that assignment, I was fortunate to be offered a number of roles indicative of continued upward mobility inside the organization. I arrived in South Korea with three children and departed two years later with five. I wanted to find a place where I could honor my professional obligations while at the same honor my familial obligations."
That brought him to West Point, where he got his doctorate degree. He arrived in West Point in 2009 and stayed there until he retired last year as the department head of West Point's Department of Behavioral Sciences and Leadership, a position he described as "more analogous to a dean of a college at West Point."
Banks speaks fondly of his time at West Point.
"I loved it. There was tremendous flexibility. It was a wonderful group of people I worked with. There were 50 folks inside the organization in a number of academic disciplines. I worked across all sectors: public, private, nonprofit, government, domestic, international. It was awesome."
Ensuring smooth leadership transition
But like a true leader wanting to ensure a smooth transition to the next generation of leaders, Banks knew when it was time to move on.
"As I was approaching my fifth year as dean, I thought it was important to ensure continued incorporation of new talent, promotion of current talent, and a reinvigoration of new ideas injected into the organization."
Banks voluntarily stepped out of his role and retired from the military. After looking around at different types of operations roles and talent development positions in a variety of industries, he took his talents to academia.
"I loved Kellogg. It offers a global platform. They are in a repositioning phase so it gave me the chance to grow something as opposed to being a caretaker. It is very much a greenfield position. I am afforded great latitude helping Kellogg with best in class leadership opportunities."
Tomorrow's leaders built on more than past performance
Banks said that the notion of building a dream team of leadership is easier said than done.
"Everybody wants to create more agile organizations. Everybody wants to do things better and faster. What we've found through research is the most effective leaders and ones with the potential for continued growth are determined by past performance.
"The number-two indicator of someone's potential is the extent to which someone can continue to learn. What are the indicators of someone who possesses a keen ability to continue to learn to meet and exceed challenges presented. What are those behaviors? What can help grow those indicators? What can impede them?
"That's an important message if you are to build a great team. You can't just hang your hat on what they've done in the past. The challenge going forward is you've got to find folks willing to continue to learn and apply what they've learned if you're going to continue to thrive."
Effective leadership starts with effective learning
"The key to learning is that it requires two things: Doing and reflecting. People are very good at doing. People aren't very good many times on reflecting on what they've done."
Banks said that reflection is often lost in the shuffle of trying to do too many things without thinking of the consequences of their actions.
"In many organizations that pride themselves on doing, creating the space for reflecting is not necessarily easy, but is absolutely essential. If they don't critically evaluate what they've done, it could potentially doom what they're out to do going forward. They'll misapply past practices and shoot themselves in the foot."
Want to hear more insights from Dr. Bernard Banks? Join us at the MES Summit this September in San Antonio.