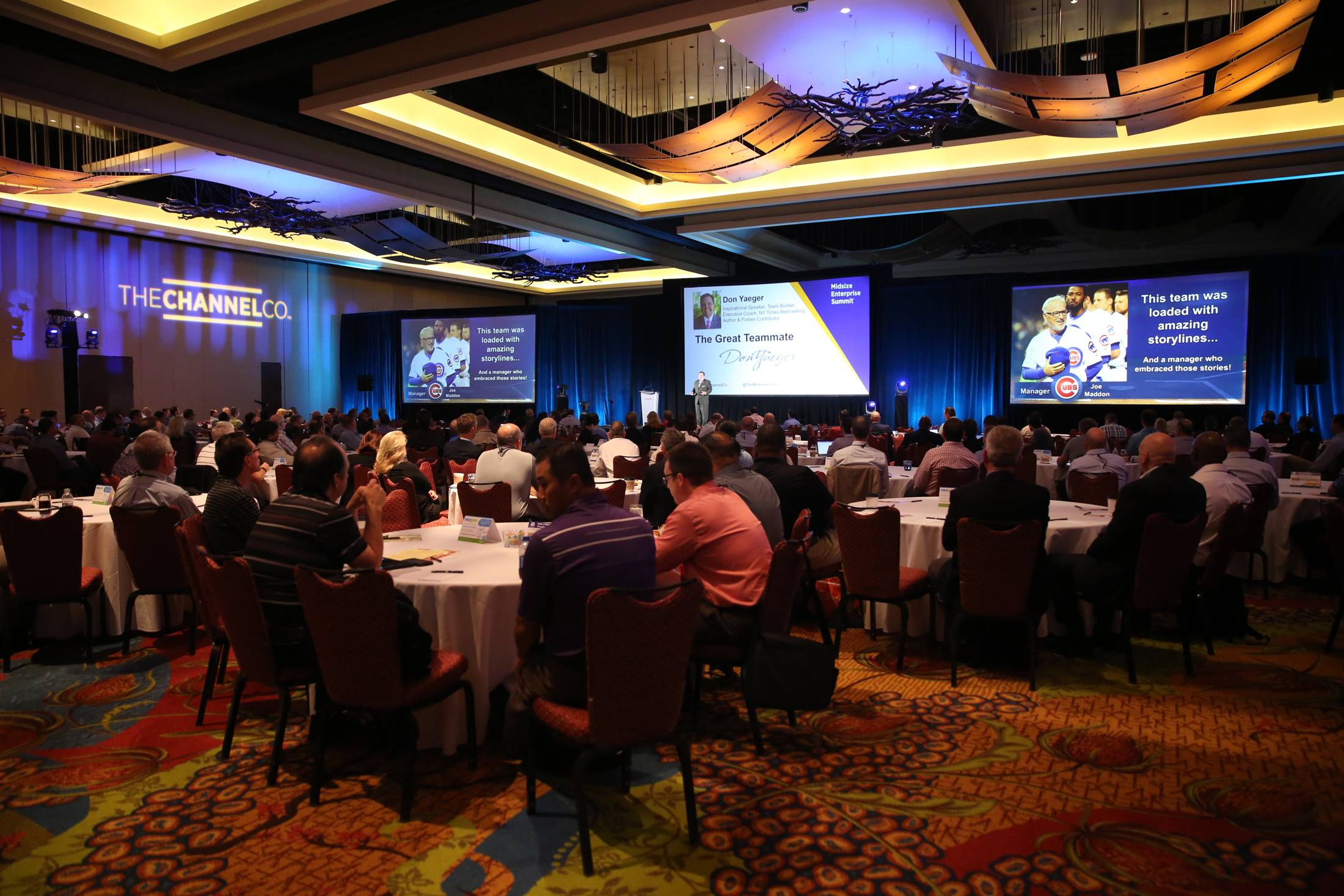 If you couldn't make it to San Antonio for this year's Midsize Enterprise Summit Fall 2017 conference, take a quick look at what you missed…and make plans to join us next year!
Now that the Midsize Enterprise Summit Fall 2017 conference is in the books, let's take a look at what brought a sold-out gathering of 550 invitation-only midmarket IT leaders to San Antonio.
The event featured three packed days of information gathering, knowledge sharing and, of course, networking. Attendees learned about the IT trends and advanced technologies they brought back to their shops in a relaxed setting at the J.W. Marriott San Antonio Hill Country Resort & Spa.
MES kicked off with a keynote presentation from Mike Cisek, research director for SMB infrastructure and operations with Gartner, on the top technology trends impacting the midmarket:
Adoption of agile, cloud-inspired hybrid infrastructure.
Optimal and advantageous use of "Anything as a service"
Use of enhanced security detection and response capabilities
Embracing of platforms that optimize operations and customer experience
Exploitation of data and analytics to improve insight and decision-making, and deliver competitive differentiation, market intelligence and user context
"The midmarket is going to provide the biggest growth in the United States," said Phillip Walker, CEO of Network Solutions Provider, a Manhattan Beach, California-based managed service provider who attended this year's event and shared his takeaways. "Data is the new gold. Data-driven midmarket companies are going to be agile and flexible. Business intelligence is the next boom in the midmarket."
Fostering…building…growing
The event continued with a keynote presentation on fostering leadership in enterprise organizations from General Bernard Banks, Ph.D., Associate Dean for Leadership Development and Clinical Professor of Management at Northwestern University's Kellogg School of Management.
Monday morning started off with a keynote presentation from author and motivational speaker Don Yaeger about building the ultimate team. Throughout the entire three-day conference, attendees were treated to a variety of breakout sessions and executive boardrooms where they heard the latest technology offerings directly from leading vendors.
"Virtual reality is coming to business tech. It's not just a fun trick," Walker said.
Monday's sessions concluded with a keynote presentation from George Lenhart (formerly of Hershey, now with Systems One) and Luis Morinigo of New Signature talked about how the candy maker deployed IoT and the lessons learned for every midmarket IoT leader.
"IoT has definitely matured," Walker said.
Sharing stories, solutions, successes
Tuesday morning kicked off with a keynote presentation from Jose Ruggero of Gartner on the power of storytelling and how it can turn strategy into action, but the highlight of the event was the gala awards ceremony that capped the event on Tuesday night.
That's where vendors were recognized in 14 different categories for their ability to articulate their midmarket value proposition during keynotes, boardrooms and in the solutions pavilion. The winners and nominated companies are seen as leaders in supplying IT solutions and services to midmarket customers.
Scale Computing, a stalwart in the midmarket, took home 3 MES Xcellence Awards for the second consecutive year, making it the night's big winner for the second straight year. HPE, which participates at the event with Intel, Information Builders and Aerohive also took home multiple awards.
Attendees were asked throughout the event to nominate and vote for companies that understood the unique challenges of the midmarket and offered effective solutions that expedited ROI. The annual awards highlight the most distinguished vendor products, solutions and presentations during the MES event.
Plans are already underway for MES Spring 2018, which takes place April 29-May 1, 2018 at the Walt Disney World Swan & Dolphin Resort in Lake Buena Vista, Florida. To learn more, check out the event web site at https://www.thechannelco.com/events/mes-spring18/about.