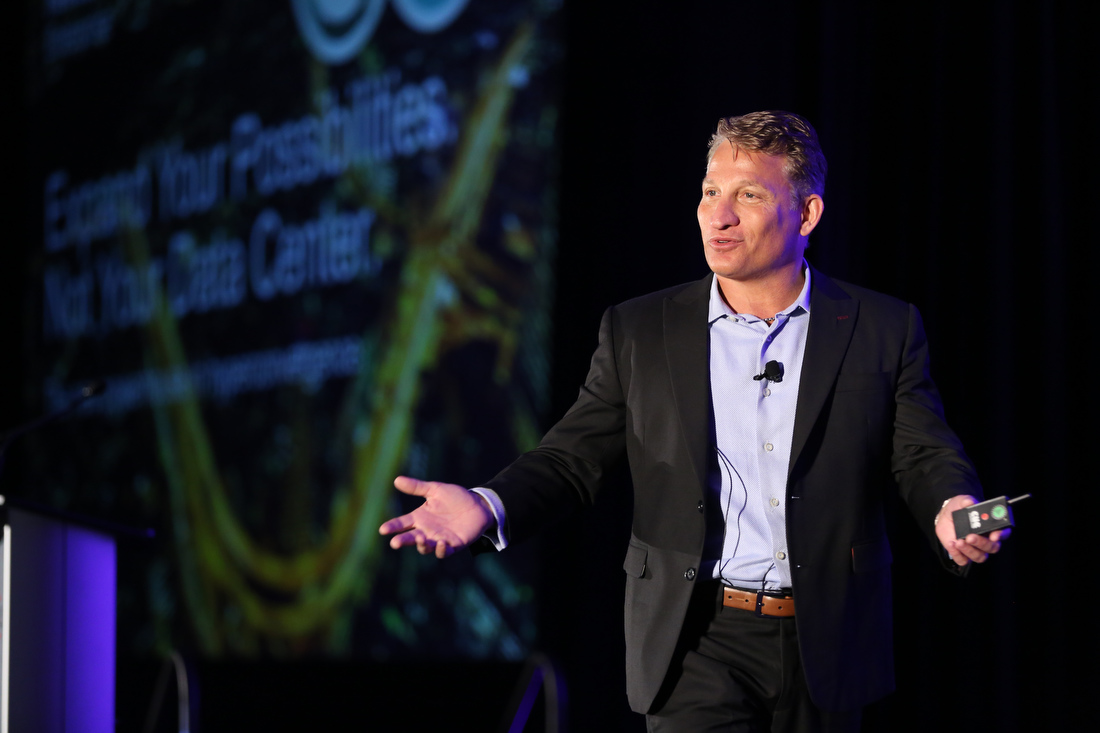 Technology has transformed so quickly that when hyperconvergence was first brought up at the largest gathering of midmarket CIOs and senior IT executives three years ago, very few knew what it was.
Things are massively different today …
This May, at the same Midsize Enterprise Summit (MES), most attendees in the audience are now widely aware of the innovative solution and its transformative data center benefits.
Marty Sanders, senior VP of Americas sales for HPE SimpliVity, presented how HPE SimpliVity offers the only hyperconverged solution available today with built-in data protection and automated disaster recovery. It hyperconverges across the entire stack to include server and storage, while also offering built-in data protection applications, WAN optimization, backup, and disaster recovery.
"As data center complexity increases, the ability to deliver reliable backups through a hyperconverged solution that is simple, flexible, faster, and more economical gives IT leaders great peace of mind," says Sanders.
Gartner research indicates that 'skills and resources' are the #1 barrier to CIO success. Case in point, many find it difficult to get money from management to transform a legacy data center to the next level of IT performance, efficiency and capability. This funding challenge is why IT leaders are increasingly shifting time and resources from run efforts to initiatives such as digitalization and BI/analytics projects that enable businesses to leverage big data for competitive advantage.
"The biggest threat to business today is a lack of innovation, and if your organization isn't there yet it runs the risk of being acquired, outsourced or becoming road kill for those companies who are innovating," says Sanders, who cited examples of companies like Blockbuster that failed to innovate.
The good news, he says, is that the average HPE SimpliVity customer achieves project payback within six months, according to a study by Forrester.
Sanders points to several customer case studies, including one involving a large scale Fortune 50 company that wanted to reduce costs and to create seamless virtual machine (VM) mobility between its three data centers worldwide. The global data center transformation project with HPE SimpliVity resulted in $100 million in projected savings over five years, a 90 percent reduction in floor space and cooling (by reducing from 34 stacks of storage, SAN, blades, etc. to only three racks with a total of 61 HPE SimpliVity systems), and achieved the desired seamless VM mobility between the three data centers.
"We view accelerating time to value in a hybrid world as the number one priority," says Sanders, which is why HPE SimpliVity focuses on the following for its customers:
Reducing IT costs and streamlining operations (Forrester Consulting research shows a 73 percent TCO savings compared to traditional IT infrastructure and a 10:1 device reduction)
Improving agility and time to production (IDC and ESG research show an 81 percent increase in time spent on new projects and rapid scaling to 1,000 VMs with peak and predictable performance)
Maximizing uptime and preventing data loss (TechValidate and IDC research show 57 percent of customers reduced recovery time from days or hours to minutes and a 70 percent improvement in backup/recovery and DR)
This focus on making IT easier and addressing the cost and complexity of legacy infrastructure with innovative and cost saving solutions may help explain why hyperconvergence is one of the fastest growing segments in the $107 billion IT infrastructure market (outpacing investment in the cloud and significantly more than traditional IT investments).
Click here, to learn more about how SimpliVity is solving some of the toughest IT challenges and helping companies modernize their infrastructure with innovative, all-in-one virtualization solutions.
Janice Cain, MBA, is an award-winning strategic marketing consultant, content marketing writer, and PR advisor who has been working extensively in the IT industry for more than 10 years with some of the world's best known software and hardware companies. Follow her @1010_Marketing