Three CEOs share insights that apply to CIOs and IT leaders at The Channel Company's Best of Breed conference.
We recently got to listen to something special—interviews and presentations from several leading high-tech CEOs. Chief executives are, for the most part, a really bright group of individuals with incredible insight and wisdom. Theirs is a demanding job dedicated to serving stockholders, customers, employees and boards of directors. Catching them during a period of reflection where they can pass along their wisdom is truly something special.
The Channel Company – which produces MES, the world's largest gathering of midmarket CIOs – recently held the Best of Breed conference in Atlanta. Best of Breed featured CEOs from Dell, HPE, Docker, VMware, Trace3 and ThunderCat sharing their views on where the industry is headed along with their views on how to succeed in it. The myriad takeaways could fill a book.
We will write more about these interviews in future articles, but here are the key takeaways for CIOs and IT leaders from three of the CEO conversations.
You can never rest easy
If you think you can rest for even a minute, think again.
Meg Whitman took over the job of revitalizing a lagging Hewlett Packard nearly six years ago against some heavy odds. She appeared at the conference fresh off the news that Uber was pursuing her for the CEO job, but she decided to stay at HPE to finish the job she started and run a smaller and more nimble company. Whitman seems to be relishing the fact that both pieces of the former HP business are doing well. She stressed that, as CEO, she is cutting layers of management so she can be closer to the customer. But that move forced her to part ways with some longtime executives—certainly not an easy decision.
She also said she is focusing her efforts on helping all of HPE—not just salespeople—become what Whitman describes as hunters, not farmers. "Hunters are companies that move very fast and take a bet on a new technology." The takeaway for readers of this newsletter is to determine what kind of employees or team members you have and decide what you need to move forward.
Focus on the future
While Whitman enjoys managing a smaller company, Michael Dell is clearly basking in the glow of integrating and managing a wide-ranging empire that spans the former EMC brand along with VMware, RSA and all of Dell's legacy hardware businesses. The contrast between the strategies of Dell and Whitman is extraordinary but both, according to their metrics, are succeeding. Dell said it perfectly when he responded to a question about the company's performance with this little ditty, "We're crushing it." The takeaway from Dell's onstage interview was that he has mastered the ability to manage a sprawling business empire while following his one credo, "I tend to be more focused on the future."
Embrace leadership
Whitman and Dell run large Fortune 500 companies while Tom Deierlein runs a midsized IT integration firm called ThunderCat Technologies. ThunderCat Technologies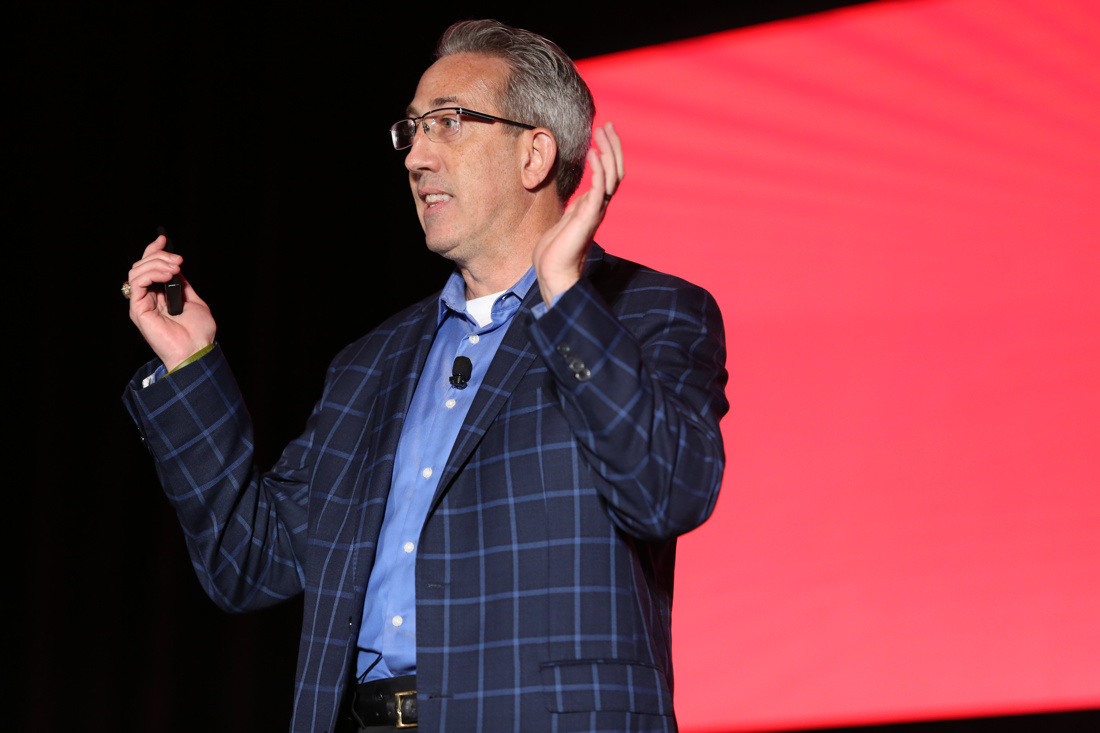 focuses on serving public sector clients among others. Deierlein, who was wounded while serving in the armed forces, has taken his military experience, married it with his business acumen and developed a leadership platform that can benefit any emerging or established leader.
The bedrock of Deierlein's philosophy is to master clear communication to employees, partners and customers. Doing so, he said, takes practice. He referenced the acronym VUCA, which stands for volatile, uncertain, complex and ambiguous. "If you are going to be a leader, you must embrace it." For any IT leader today, those four words define their daily existence. His point was you must grow comfortable with making decisions in that environment.
Those three leaders among others shared a treasure trove of insight that can be applied to our daily professional and personal lives. They have all made hard decisions in their jobs as they try to cope with a market that is changing rapidly and challenging their management skills every day. Let's not be too busy to listen to their advice, then apply it to make a difference.
Read CRN's coverage of the BoB conference and view videos of the keynotes and CEO interviews as well.